Most sellers don't get excited when I suggest painting as one of the best ways to add value to their home. To do it right, it's a lot of work and it can be messy (Like the time I dropped a quart of paint from the scaffolding onto the living room rug!). And if you pay someone to do it, it can be expensive. To a buyer, however, fresh paint makes a home look – and feel – newer and more up-to-date. Here are some things to consider when trying to decide what painting to do.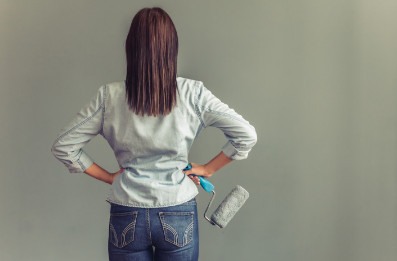 The Perfect Color
Believe it or not, new paint, in the right color can increase your home's value by thousands. Or at the very least make your house sell a lot faster. Even if your paint is in great condition, if it's the color that went on the walls 10 years ago, it's probably screaming "old house" to a potential buyer. With all the great decorating advice online these days it's easy to get a sense of what's current. Online sites such as Pinterest are a great source for current color ideas. Pay attention to regional preferences too. What's hot in Seattle right now, may not be a great choice in Atlanta. Remember that what used to be hot probably isn't now. For example, Zillow's 2018 color study found that red kitchens actually dropped the sale price of a home by an average of $2,310! On the exterior, homes with yellow exteriors also sold for less. If you're still confused, get a realtor involved. It's better that you start working with your realtor early on so you can take advantage of their local market knowledge.
Making Cabinets Current
So you've got oak floors, oak trim and oak cabinets? Paint is the way you can break up that sea of oak. Painted cabinetry is getting to be a fairly standard update in my part of the country. Even in higher end new construction. You can't go wrong with white cabinets in kitchens or baths. For a little more interest. Paint the kitchen island another color such as gray, black or a current color. Another option would be two-tone cabinets – what the decorating world calls tuxedo cabinets. It's most common is to have a darker color on the bottom and lighter or white cabinets up. This can give your kitchen a more luxury feel. Note: painting cabinets is only for experienced DIYers. If you don't know how to produce a rock hard finish, leave this job to the pros.
The Front Door
I could write a whole article on the importance of the porch and front door. After curb appeal, the front door is the first impression buyers will get of your home. Make it a good one! The paint on the door, and the trim around it, should be in perfect condition. Color is important here too. According to Zillow's color study, the front door color made more difference than color anywhere else in the house. Homes with charcoal and black doors sold for much more. Here again, think regionally. An orange door might be fun in Florida but I'm not sure it would fly in Minnesota. Note: If you have a storm door, and it's detracting from the door itself, consider taking it off. Put it somewhere safe and let the buyer replace it if they choose.
Ask Your Realtor for Help
Your realtor can send you pictures of homes in your area that sold quickly and for a great price. This might be the best resources you have for determining what buyers in your area really want. Pay particular attention to the higher priced homes that aren't snapped up immediately in a strong seller's market. You can make your home "the one" to more buyers with good use of paint!