Tips for Family or Friends Who Are Helping Seniors Make a Move
Moving is stressful. Even when you're excited about your next big adventure, it's still considered to be one of life's more stressful events. Besides the obvious big task of selling one home and finding your next one, the number of arrangements and the "to-do" list can seem endless. When it comes to helping seniors move, however, there can be a lot more to consider than just the logistics of it all. There are many emotional and relational considerations too.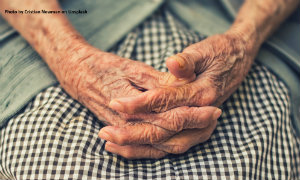 If you're getting ready to help a parent or senior family member move, or are even just starting to talk about it, here are some things you really should consider:

Let's admit that change can become more stressful as people get older – sometimes extremely stressful. What seems like no big deal to you, might be a really big deal to them. Depending on your Senior's tolerance for change, you might just need the patience of Job. If you're trying to rush big decisions, such as where to go next, you will more than likely end up feeling frustrated. Your Senior will feel frustrated, disrespected and possibly resentful. Even small changes can cause a lot of anxiety in some older folks.

Start going through the family treasures, well ahead of time. In fact setting up regular times on the calendar to do so can be a great opportunity for your Senior to share the stories behind them. Your Senior and your children can also benefit from sharing those memories together. And you might just learn something awesome that you didn't know about them. If you can manage to start this process early enough, it will also help your Senior to "let go" of all those things they've been collecting and enjoy the memories throughout the process.
Your senior needs to feel like you care about the things they care about. You may not want a lot of the "treasures" that your Senior wants to send your way. Most of us aren't the collectors that our parents were. And the reality is, we don't tend to have the same taste in décor. Show your Senior that you love and honor them by "wanting" some of the things that are significant to them. Then get them excited about selling or giving away things to those who can continue to enjoy them, or even really need them. The feeling that comes from generosity can help a lot in relieving a sense of loss.
There can be trauma in letting go of the "family home". Frequently, those of us that are looking to help Seniors move are moving someone who has been in their house a long time. They're comfortable there in the surroundings they're accustomed to. The home is filled with memories that they made with the family they love. Many times it hasn't been that long since their spouse has passed away and that can add to the heartache. (Most counselors don't recommend anyone move, after the death of a spouse, for at least a year.) Leaving can literally be terrifying for some.
Find a realtor who can meet the needs of a senior. Actually I should have said "help" find a realtor. Many times seniors know and like a realtor they would like to work with, only to be pushed by their children into working with their own realtor. The trust relationship between a client and their realtor is very important so, ultimately, the realtor that's chosen should be someone your Senior is confident in working with. It's very reasonable to ask a realtor to meet with all of you together, with your Senior's permission, of course. Realize, however, that unless you have full power of attorney, your Senior is the realtor's client. A realtor that's good at working with seniors, will also be good at respecting them as the client, while keeping you well informed and in the loop, if that's what your Senior desires. They should also be willing to slow down and listen carefully to your Senior's needs and goals. I've always found it's best to allow for double the time to work out everything
Along the same lines, remember, this is your Senior's home and these are your Senior's things to sort through. You are there to help. Decide now that it's worth your time to patiently go through this process with them. If you try to push through too fast, or insist on doing things your way, it may create lasting feelings of resentment in your Senior. As hard as it can be in our fast moving world, it's worth your time to slow down and be patient because they are worth your time. Some day you may cherish priceless memories of those times spent together.

If having enough time is an issue for you, consider getting the help of a senior move manager. If your senior lives in the Twin Cities area of Minnesota, then I'm putting in a shameless plug for Home to Sweet Home based in Stillwater. They not only get the job done with excellence, but they do it with care, compassion and understanding. It helps that they love their job too! Here's a link to their website: http://hometosweethome.com/. They also have great referral resources for all kinds of services that may be helpful.

Because it's important, I've spent a lot of time here on the emotional considerations of helping seniors with moving. Of course there is still that mountain of logistics to deal with. There are many resources you can find online that can help with that. The following link from the Family Caregiver Alliance has a comprehensive Checklist for Caregivers who are helping Seniors downsize their home: https://www.caregiver.org/downsizing-home-checklist-caregivers. There are a lot of other resources on the bottom of the page as well.

There's no getting around the fact that helping Mom or Dad move is going to be stressful. I hope I've helped you see that it doesn't have to a miserable experience. You just might have a good family experience. It will certainly be better if your Senior feels loved, cared for and respected.